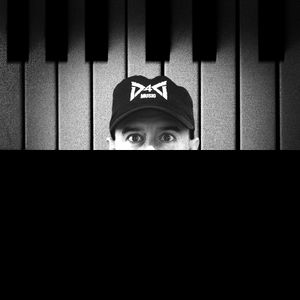 D4Disgruntled has nearly 30 years of knowledge about the film music industry, the creative and production process, personal & professional connections with film composers as well as their composing styles, a musical education and performance background as a symphonic percussionist in his youth. He is no stranger to professional struggles, obstacles, and challenges faced by any filmmaker trying to execute their vision. D4Disgruntled's path to pursuing a dream of becoming a film composer began early in life but was put on  
It may seem strange to outsiders that it took so long to enter the arena, however, it ended up being the best time as a result of subscription models and more affordable access to the tools used. Before all this became available, D4Disgruntled's career went into other creative fields where he honed his storytelling skills through concept art and storyboards. All the software and hardware that is so widely available to everyone today was not in the 90s and early 2000s.  
In 2016, D4Disgruntled invested time and money to acquire the necessary tools and resources to get started. He recently upgraded to Digital Performer 10 and a slew of professional sounding Virtual Instruments. Additionally, he is receiving training and mentoring from film composers Richard Band and John Massari.  
The culmination of all his knowledge, pent up creative ideas, and personal & financial investments have exploded into a series of "Concept Soundtrack Albums". These works were composed as potential alternate scores to existing films (as though he had been originally hired to write them) or stand-alone simple narratives he conceived. These albums, while available for purchase, are also 'demos" from which to obtain work.
Musical Influence 
After becoming a fan of film music over the years because of being a film buff, and discovering the music was sold on CD, he realized he wanted to make film music. He moved onto music theory and composition including the art of "playing by ear". He would start composing and recording his own rough improvised compositional works. 
He was attracted to composers whose music was crafted and tailored specifically to a film projects in which all the musical elements related not just to each other but to the visual story it was supporting. Some of his earliest influences were Jerry Goldsmith, Christopher Young, John Carpenter, James Horner, Hans Zimmer, RIchard Band, Marco Beltrami, Thomas Newman, and Danny Elfman. 
 
Early Composition Efforts 
While in high school and on into college, D4Disgruntled created musical compositions of his own. They were more like rough, improvisations of musical ideas, a free flow of ideas in the moment, performed on the keyboard and recorded directly into a stereo system on cassette tape. Many of these recordings he still has today, on tape and digitally archived. 
D4Disgruntled decided to attempt composing to picture. He chose to score Halloween 4 and 5 almost in their entirety and selected scenes from The Guardian (the William Friedkin film), Phantasm 2, The Fog, Single White Female, Pet Sematary. Some had blatant uses of recognizable themes and material from the existing scores but for the most part a listener can hear D4Disgruntled trying to find his voice. At some point, an archive page will be set up that will feature some of this music from when he was a teenager just beginning to learn how to compose. 
 
Musical Background 
D4Disgruntled grew up originally in Indianapolis, IN where he began symphonic and concert band percussion performances beginning 6th grade through the end of high school. He played all the instruments. He could read sheet music; he just had a difficult time site reading melodic music. Most percussion sheet music was indefinite pitch so everything was written on a single line which he could follow. The Timpani and the Chimes were fine as they have a limited range, but he avoided the marimba, xylophone, and glockenspiel. 
In high school, under the suggestion of his Music Theory instructor, D4Disgruntled took a Chorus class to understand 4-part writing. He learned a lot compositionally then as well as how not so great a singer he was. He also attempted piano classes but that failed and ended within weeks. D4Disgruntled can read full on sheet music, just not as a "site reader". 
While attending Indiana University, his close affiliations with the Music School students and working on the Opera productions, D4Disgruntled immersed himself in as much of a musical environment as possible. Though he eventually obtained a BA in Fine Arts, he continued his study of Music Theory, adding Music History, and a MIDI course while at IU. He also continued composing his musical sketches in his dorm room when he had free moments. 
 
Lack of Resources Forced A Career Change 
After moving to Los Angeles, CA, his career path a different creative direction. The software, sound libraries and hardware were not affordable and not widely available to newbies like D4Disgruntled like they are today. There were also no subscription services either back then. 
However, this gave him time to learn more about the film score industry and keep up on what tools were becoming available. Reading online articles, online interviews, online videos, special edition CD releases with extensive liner notes delving inside the creative process of each composer like never before. 
Eventually, D4Disgruntled would be able to invest in a DAW and sound libraries that were just the "essentials" before able to upgrade to more professional level DAW and VST instruments. He continues to educate himself on music theory and has returned to composing with a series of albums. 
 
A Return To Music 
Fast forward 28 years to what D4Disgruntled has called "Part 2" where a renaissance of sorts has occurred for him.  At his disposal, this time around are the basic (software and hardware) tools needed to create the music he wanted to create. He has made up for lost time through his series of "Concept Albums". The flood gates have opened, and the music is flooding out. 
D4Disgruntled managed to catch the attention of some people for gig opportunities. Two were YouTubers in which he supplied thematic music and additional incidental tracks as additional library music. D4Disgruntled has also composed music for various video content for a video production company called The Creative Cortex. He also, teamed up with the music artist Somnus Music in 2018 to co-compose a musical track. 
 
Musical Style 
The musical style of D4Disgruntled is "film score" music. It can ambient, melodic, action packed, suspenseful, scary, and sad, and sometimes all in the same musical work. While he is not emulating anyone directly, it is possible to hear the influences from his many favored film composers all while having his own voice shine through. The short list of influences consists of: Jerry Goldsmith, James Horner, John Carpenter, Christopher Young, Hans Zimmer. In addition, he draws occasionally from European, Mediterranean, Middle Eastern Asian music styles. 
Much like the composers he favored who emphasized narrative storytelling in their music, D4Disgruntled's music manages to tell its own story, support the onscreen narrative when heard separate from the film, that same story holds up through the music. D4Disgruntled's approach to composing, like that of Jerry Goldsmith, has attempted to find interesting orchestrations and sounds on each new work to create a unique composition which also aid in the overall storytelling, establishing of characters and situations. 
The "Horror Re-Scored: Vol. 1" album, while none of the musical ideas created by D4Disgruntled did not use any of the original film's musical, he managed to create a whole new soundscape in a similar vane as the original music score. He achieved it with different instrumentations, synths, and sound effects while still capturing all the drama, horror, and action. The film used was "Halloween 4". 
For "Horror Re-Scored: Vol. 2", the same approach was executed with all new musical ideas, instrumentations while simultaneously presenting several influences filtered through his own voice. This time the film chosen was "The Exorcist 3". The film had little to no music at all with tons of dialogue sequences, which allowed for a clean slate. 
His other albums are much more experimental with soundscapes and techno. Yet, they are stand-alone narratives written by D4Disgruntled to which he composed music to. These were not existing films or tv shows. 
The musical sound is based more on the instrumentations chosen to express the emotional themes, associate with characters and set the soundscape specific to the picture. D4Disgruntled's approach to composing, like that of Jerry Goldsmith, has attempted to find interesting orchestrations and sounds on each new work to create a unique composition.